Here we go, a lesson from over the pond. A few of our states are showing promise in the K12 scene… progress is long overdue. The American Higher education scene has been bled out.
Why I'm a striking lecturer: I want to stop the slow death of public education
On the picket line I've seen how much widespread support there is, by those fighting against broader attacks on education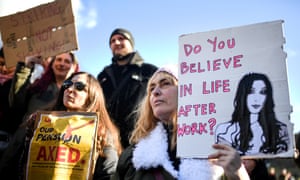 Iam a lecturer, currently on strike. I am also a part-time MA student, whose lecturers are on strike. And I am the mother of a student whose lecturers are on strike. There have been attempts by many vice-chancellors to pit students and their parents against striking staff, often by positioning staff as selfish and greedy, and students as the consumers whose livelihoods they harm. But even though I dread the hole in my next pay packet, and know exactly what it is like to see classes disappear when I have an essay to write, and though I feel for my daughter, who worries about the impact this will have on her degree – and therefore her future – for me there has been no moment of doubt, no internal war.
This unity of purpose is mirrored on the picket lines, where the active support of students has made even the coldest days feel like high summer. They arrive at 8am daily to brew us "solidari-tea", they make banners, art and music, they occupy buildings, and march alongside us, even in heavy snow. And the support is broad: a YouGov poll conducted on the eve of the strike showed that 61% of students supported it, and only 2% blamed the strikers for the disruption to their studies.
The issue that has led to this dispute is pensions, and yet large numbers of casualised staff are on the picket line too – part of a growing cohort of young academics for whom the only jobs on offer are paid hourly, and meagrely, with no security and very little opportunity to do research. Viewed from the precarious position of many staff and most students, pensions of any sort must seem like an impossible dream. So why do the majority of them support us?
Partly, because they can see the injustice. Often presented as if a gift, like some fat cat's golden handshake, pensions are in fact part of our pay. People who choose to teach in universities do so because they believe that teaching and research are a public good, and worth doing in return for modest pay and a decent pension. So when the vice-chancellors, represented by Universities UK (UUK), announced their intention to switch from a "defined benefit" scheme to a "defined contribution" scheme, the betrayal was keenly felt.
Under the "defined contribution" (aka "die quickly") scheme, the typical lecturer would lose about £10,000 a year in retirement. It is a deeply cynical move by people with vested interests, which if successful, would mark the end of higher education as a public service.
Why are university staff striking?

Show
The fact that the majority of vice-chancellors involved have now publicly distanced themselves from UUK's position, including Oxford, Cambridge, and others who appeared implacably hostile to the strikers' demands only days ago, is a sign of the weakness of their argument, as well as the strength of the strike. Many universities have expressed dismay at how their own contribution to UUK's "consultation" was presented. UUK also claimed that defined benefits have become prohibitively expensive – a claim that turned out to rest on an implausible scenario in which every university went bust tomorrow, and which has been challenged even by the Daily Mail. Meanwhile, universities enjoy record surpluses, vice-chancellors are being given obscene salaries and lavish expenses, and cash is poured into trophy buildings to make the "brand" easier to "sell". And all while junior staff struggle to pay their rent, and students in huge debt sit in overcrowded seminars.
But, like most strikes, this one is about much more than money. My favourite banner on the picket line reads "Against the slow cancellation of the future", a phrase popularised by the late cultural theorist, Mark Fisher. In the grip of neoliberalism, we begin to believe that there is no alternative, Fisher told us.
In universities, this slow draining of hope began with the introduction of tuition fees in 1998, and gathered pace when they were tripled in 2010. Successive governments, enthusiastically aided by overpaid senior management drawn from outside the university sector, have turned higher education into a utilitarian and consumer-driven activity that students buy in exchange for skills for the job market. The raid on pensions fits this pattern – it is an attempt to shift the risk of volatility in the market from the employer to the individual, to pave the way for further privatisation and rid universities of any remaining sense of responsibility for the long-term health and dignity of their workforces.
The real reason for the widespread support for the strike is that these broader attacks on education as a public service affect the entire academic community – the full-time staff, the casualised staff, and, of course, the students.
The problems we face – debt, increasing workloads, precarity, mental health issues – are not only shared, but systemic. Students understand that staff working conditions are their learning conditions; staff understand that students' financial stress is an assault on their freedom to learn. On the picket lines, the conversation has not been about pensions, but how we can democratise universities, and restore them to their real purpose. Every member of the academic community knows education is potentially life-enhancing, liberating, world-changing. That is something worth fighting for.
• Becky Gardiner is a senior lecturer at Goldsmiths, University of London, and former comment editor of the Guardian